When you look
an animal

in the eyes, all the philosophical systems in the world collapse.
Engrave
your pet

on your jewellery.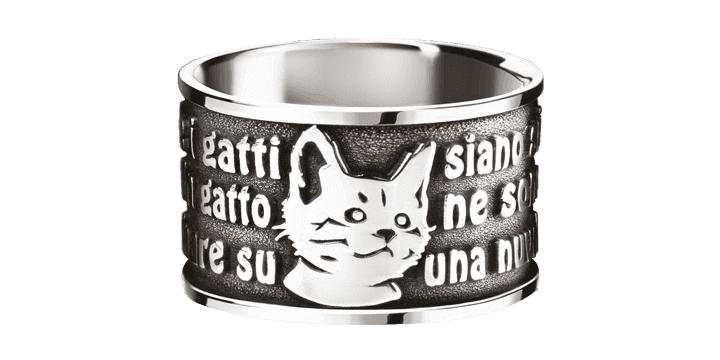 MYPET EDITION
The unconditional love felt for our four-legged friends has always been one of the most sincere feelings a human being can experience in their life.
The MyPet edition was created to celebrate this unique and special tie, so you can engrave on your jewellery, not only a name and dedication, but also the true image of your faithful "companion", taken directly from your favourite photo portrait.
A big, small sign of love for the one who keeps you company every day, bringing serenity and sunshine into your life.

A
personal pair of jewels

, like the love that binds you.
Una
coppia di gioielli

personale.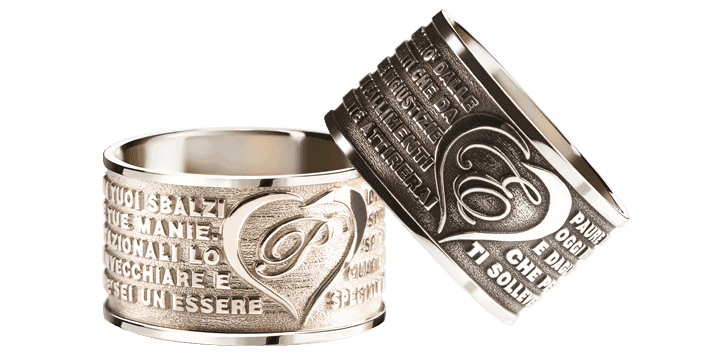 MYLOVE EDITION
very love story has its memories and its own unique moments; songs that were the theme music to a memorable time, phrases or poems recalling special ties, so strong and indestructible that they resist even time. This is a universal love without boundaries, which is not limited to couples in love, but includes parents and children, sisters and brothers, or marks a heartfelt friendship.
Just as in true love two people unite, the one completing the other, so their jewels are created separate, but at the same time are united with one meaning, like two halves that match – becoming the perfect metaphor of love.
When a phrase, a song or a poem begins in one ring and ends in the other, you have a pair of MyLove Edition. It can be a quotation, a romantic poem or a phrase from your favourite song – once again, the only limit is your fantasy.

"
One good thing about music

hen it hits you, you feel no pain." (B. Marley)
Engrave
your music

on your jewellery.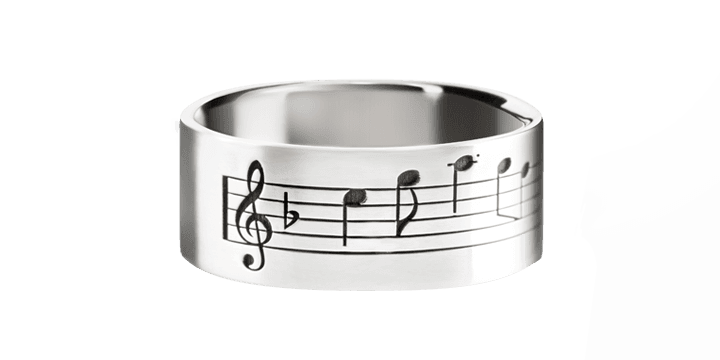 MYMUSIC EDITION
With the MyMusic edition your best-loved melodies become the protagonists: rings and bracelets are transformed into small, exquisite musical scores, where elegant and refined musical notes seem to dance among the lines of the stave.
This makes a unique piece of jewellery that will be your "accompaniment" every day. Unique and original, it is ideal for musicians, but also for everyone who considers music to be an essential part of their life. Listen to your emotions and let your fantasy create a unique piece of jewellery. UNIQUE just like YOU.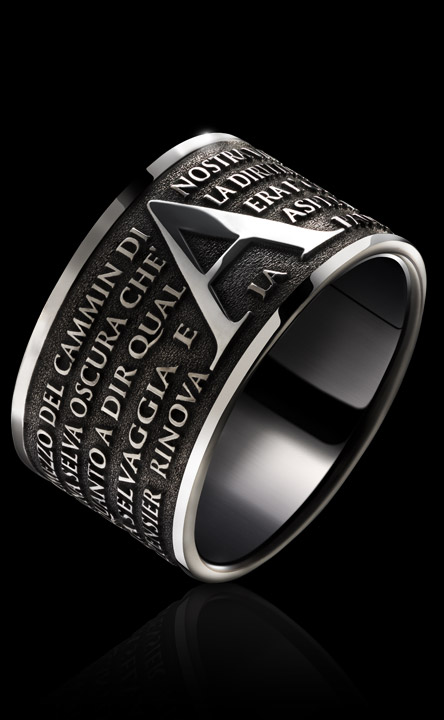 Put together text and symbols to be printed on your piece of jewellery, or send us the drawing you want engraved. Simple!
There is no fantasy that we cannot realize.
CREATE YOUR JEWELLERY NOW
Jewellery with the
indelible images

of your memories.
The
indelible images

of your memories.